It is super easy to make these chocolate banana pops and your kids will LOVE them!
I found ripe bananas on sale and picked up several bags, so I needed to use them before they spoiled. The first thing that came to mind was freezing and I thought I would give these chocolate banana pops a whirl.
You'll need the following ingredients to make your own:
bananas
chocolate flavored almond bark
sprinkles, chopped nuts
craft sticks
wax paper
1. Peel the bananas, break in half, and stab a craft stick in each end.
2. Melt the almond bark on low heat, stirring frequently.
3. Roll the bananas in the chocolate and then in the sprinkles or nuts.
4. Place on a cookie tray lined with wax paper to dry.
5. Flash freeze.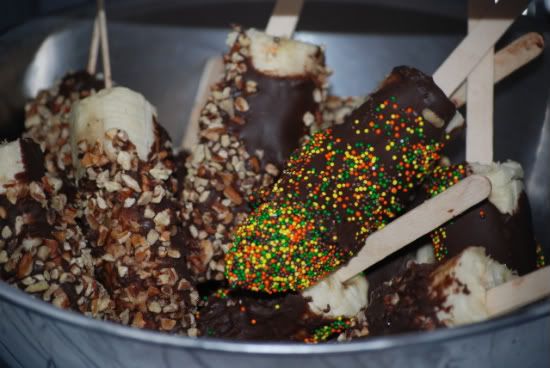 After the last step, I chunked all the chocolate banana pops into a big bowl and set it in my freezer for easy pickin's.
That's right! I didn't even individually wrap them because I knew they would be gone in no time at all.
And also because my personal motto is "It'll do."
In addition to "Show your knees if you please, but keep your thighs a surprise."
But that's another blog post.