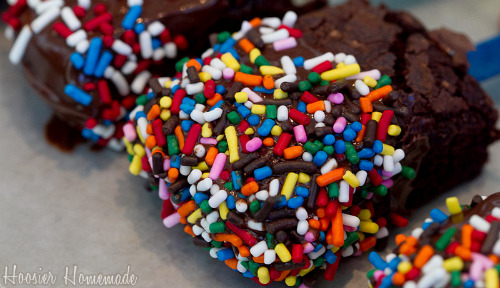 Kids love any kind of food on a stick! And especially when it's Brownies on a Stick!
 
I recently had a privilege to bake in the Betty Crocker Kitchens in Minneapolis. It was an amazing experience, one I will never forget. Throughout the day we baked in 4 different stations, one of those was brownies. We made an amazing Brownie Pizza, Brownie Goody Bars, Rocky Road Brownies and these Brownies on a Stick!
 
They are easy and fun! I think they would be a great Fall or even Halloween treat too. There are tons of fun sprinkles out now, making the ideas are endless!
Brownies on a Stick Recipe: (Betty Crocker)
1 box of Brownie Mix plus water, oil and egg called for on the box (8 or 9 inch square size)
15 craft sticks (often found in the craft section of Walmart or Hobby stores)
2/3 cup semi-sweet chocolate chips
1 1/2 teaspoons shortening
Assorted sprinkles
Directions:
Heat oven to 350 degrees. Line 8 inch or 9 inch square pan with foil, extending the sides a couple inches. Spray foil with cooking spray. Bake brownies as directed on box. Cool completely, about 1 hour.
Place brownies in freezer for 30 minutes. Removed brownies from pan, lifting foil, peel away the sides. Cut brownies into 15 rectangles. Gently insert craft stick into one end of each brownie, peeling foil away. Place on cookie sheet and freeze for 30 minutes.
In a small microwavable bowl, melt the chocolate chips and shortening about 1 minute, stir until smooth. If the chocolate is not completely melted, microwave for an additional 5 seconds, stir until smooth.
Dip end of brownie into chocolate and add sprinkles. Lay flat on waxed paper to dry.
You can also use candy melts or even almond bark for dipping, they work great too.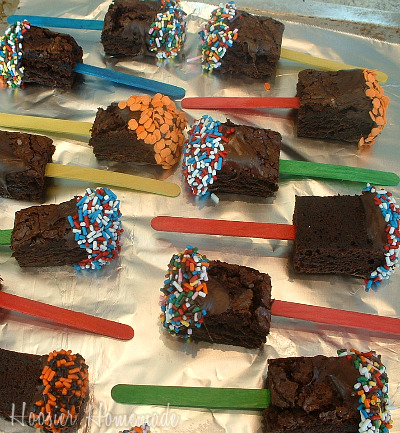 You can find me over at Hoosier Homemade usually surrounded by Cupcakes! I've been blogging a little over a year, I share lots of baked goods and decorating tips and tricks, all to help you "Make Your House a Home." When I'm not baking cupcakes, you can find me partying over on my other blog, It's A Blog Party, where I host a different linky party everyday. Catch up with me on Twitter and Facebook.

What is your favorite kid friendly snack?